Europe on political and economic crossroads: what opportunities and challenges is the financial services sector facing? 💡
On May 9th, 2023, the 13th D-A-CH Congress for Financial Information took place at the Sofitel Munich Bayerpost. The theme of this year's conference was "Europe on political and economic crossroads: what opportunities and challenges is the financial services sector facing?".
The day was filled with networking with executives from the financial information industry, discussions on industry topics & exclusive presentations from global market leaders and academics.
With 800+ registrations, 4 panel discussions, 1 roundtable and 29 presentations across 5 streams; (1) Market Data Products & Solutions, (2) Reference Data Management & Feeds, (3) Investment & Portfolio Management Trends, (4) Fintech Solutions, Managed Services & Regulatory Developments (5) Sustainable Finance (ESG) & Energy Markets - the event was once again the largest meeting place for the financial information industry worldwide.
Dr. Alexis Eisenhofer from Financial.com opened DKF 2023 with a welcome speech, followed by the first speaker of the day Debbie Lawrence, Group Head of Data Strategy and management at LSEG who gave a keynote speech to kick off the event.
Panel discussions 🗣
The theme of the first panel discussion moderated by Evert-Jan ten Brundel from TRG Screen was "How can innovative data services and technology accelerate the reshaping of the financial world?", discussed by Stefan Weichert from Forrs, Emily Prince from LSEG, Vitalij Smoljaninov from Metzler, and Christian Baha from Baha.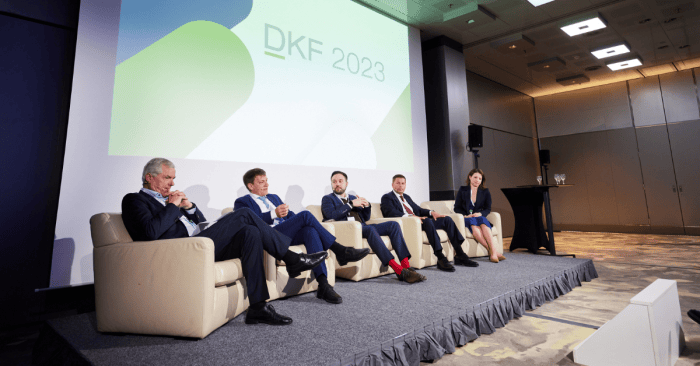 The second panel of the day; Luca Pedretti from Pexapark, Jens Hartmann from Enmacc, and Sami Younis from Parameta discussed "Making energy investible' which was moderated by Martin Hiller, Forrs.
Stefan Wilhelm from financial.com moderated the third panel which gave an outlook on "How will cloud providers/solution impact the market data industry in the next year?". This topic was explored by Henk D'Hoore from SIX, Bill Bierds from BCC Group, Nana van Oorschot from BIQH, and Jan Gerrit Marks from Deutsche Borse.
Finishing off a great day of panel discussions the final panel; Rebecca Palmer from ICE, Florian Huber, from EYCarbon, Bernhard Schiessl from S&P and Edda Schröder from Invest in Visions discussed 'What are the challenges to putting ESG data to work in the financial industry?' moderated by Dr Alexis Eisenhofer from Financial.com.
Between each panel there were various presentations happening from experts on current issues relevant to the market across the 5 streams.
Presentation: Cultivating the next generation of market data professionals
Our very own, Nadine Scott, Global Head of Managed Service at TRG Screen kicked off the first presentation of the day in steam (4) 'Fintech Solutions, Managed Services & Regulatory Developments' with her presentation on 'Cultivating the next generation of market data professionals'.
Quoting Bernardo Santiago from S4 consultancy who said in a recent WatersTechnology article 'We're running out of market data people" Nadine acknowledges that it's becoming harder and harder to fill market data roles. But instead of pondering on this Nadine asks the room 'What can we do about it?'.
Pulling on her 22 years of experience within the industry working in various market data roles and her personal experiences of living in Germany and learning German, Nadine educates the room on what we can do as an industry to cultivate the next generation of market data professionals.
Discussing that those experienced professionals need to create a 'learning culture' environment by educating and sharing knowledge and help pull out the potential of the next generation coming into the the industry. However, acknowledging this takes time and energy out of our already busy schedules.
Nadine discuses using managed service as an option to outsource or augment elements of the work associated with your market data & enterprise subscription management.

The Managed Service team at TRG Screen is built up by the endless time we dedicate to the recruitment, training and development of this next generation to give them the perfect environment to gain a good solid understanding of market data to deal with your market data management needs, taking the heavy lifting away from you.
Watch Nadine full presentation 📽️
Presentation: Managing Market Data with Confidence: The role of Reference Data Management
Amjad Zoghbi, director at Xpansion gave a interesting presentation on 'Managing market data with confidence: The role of Reference Data Management'.
Amjad gave an insightful introduction into reference data and the challenges that come with reference data management, presenting to the room a simplified view across the organisation to help understand reference data management, as well as 4 basic principles for a solid reference data management strategy.
By talking through some client case studies, Amjad demonstrated what others had achieved by successful reference data management using XMon.
Xmon - offered in partnership with Xpansion - is our reference data usage management tool that helps Data Operations teams establish proactive control, transparency and governance over reference data usage & spend.
Watch Amjad's full presentation
DKF Women's Roundtable 👩🏽
It was a full house at the DKF women's roundtable moderated by Anja Hohenaker from TRG Screen. The panel members; Julia Bewerunge from ClimatePartner, Katja Lammert from MEAG and Dr. Alexandra Hachmeister from Deutsche Bundesbank discussed the topic "ESG DEI & Gender Lense Investing - what influence this has on the gender gap in companies"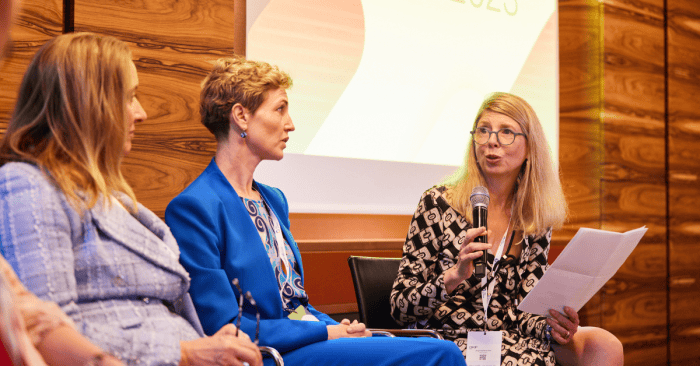 Get notified when we release a new blog article