Like the financial firms for which market data is the lifeblood of their business, exchanges are increasingly turning to technology to ensure they understand precisely who is using the data they sell and how. Only with these insights can they be sure they are accurately billing for their services.
So it is no surprise some exchanges are teaming up with data inventory management providers able to deliver the whole picture of which consumers are licensed for what financial data, and are experienced in handling invoicing and other vital administrative tasks.
Euronext's client portal 💻
Take pan-European stock exchange group Euronext, which turned to leading enterprise data subscription management provider TRG Screen and its INFOmatch product to work more closely with its end customers.
All with the goal to give them the best possible user experience when it comes to onboarding, product ordering, usage reporting, compliance monitoring and self-servicing.
The partnership goes back to the days of exchange consolidation. Euronext needed a revenue management system after it was spun out of the New York Stock Exchange (NYSE), with which it had earlier merged, when Intercontinental Exchange bought NYSE in 2013.
Screen Group, now TRG Screen, spoke to Euronext about INFOmatch, which was originally a spend management tool.
"We spun out of NYSE in 2014 and were up and running on INFOmatch at the start of 2015," said Michael Hodgson, Euronext's Head of Information services.
A reporting portal was added and, most recently, a client portal through which clients can manage their agreements and services. "They can browse and buy data by the portal. If the client wants, they can be completely self-service," Hodgson added.
Reporting data consumption accurately has become more complex as data sources have proliferated, vendor policies have changed, and licensing has rules have had to adapt to, for example, working from home. This growth in complexity affect exchanges, too.
Automatic compliance checks ✅
However, INFOmatch automatically checks whether reported usage is compliant with vendor agreements and provides integrated reporting and analysis of global usage per customer. Hodgson says Euronext is able to monitor what happens to its data.
Billing and invoice workflow is automated. Discrepancies between reported usage and the client's contractual obligations and automatically flagged up. These might include reported non-display use of data against the client's contract terms.
"Before this, there was some manual administration and checks on our side. A lot of that has now gone away," Hodgson said.
"Clients don't want to spend time bogged down in billing issues. With this, we can make everything quicker for them, so they can spend their time on other things," he added.

Euronext plans to add a usage questionnaire based on a TRG Screen audit tool, and automating the process by which the exchange approves data vendors to provide its data to specific clients.
This will bring greater understanding to the audit process, allowing it to move faster, and allowing clients to use that audit module to input and report their usage, Hodgson adds.
The next effort would be to streamline and automate the currently manual processes of requesting access to data and receiving approval to distribute data to clients by these vendors.
Contract management, reconciling invoices & self-certification 🚀
Chris Hutton, Head of Content and Exchanges at TRG Screen, says this makes data administration functions easier for both the exchange and its data subscribers.
TRG Screen built Euronext's platform with significant input from the exchange, which Hutton says has helped shape its product roadmap for the benefit of other clients.

Data vendors also use TRG Screen's technology to manage licenses, including Ion Group's Fidessa business and Web Financial, while several other unnamed exchanges are already using the platform in a similar way to Euronext, for contract management and reconciling invoices.
And as use cases among exchanges and vendors grow, TRG Screen continuously adds more functionality to the platform.
For example, as self-certification becomes more important to clients, TRG has developed a self-certification questionnaire for clients, which helps users identify the best products and license models for their needs, guided through the process by the interface itself.
A one-stop shop for end-users, vendors and exchanges
Other TRG Screen services include tools to declare data usage to exchanges, an exchange compliance database and all of these are integrated with its state-of-the-art Optimize Spend solution.
For Euronext clients it is not necessary to use TRG Screen software to interact with any of the functions in the exchange's client portal. However, using common systems - like TRG Screen's Optimize Spend solution - could yield much broader benefits.
Optimize Spend is part of TRG Screen's newly launched Optimize platform and allows end-user firms to manage the entire lifecycle of their market data and information service subscriptions in one place. Visual dashboards give actionable insights that pinpoint opportunities to optimize spend, usage, enquiries and compliance – in an instant.
Hutton says the Optimize platform could be a portal for any dealings between end-users and exchanges.
"We'd like exchange clients to do everything on the Optimize platform. We want to become a one-stop shop so that if an end-user client is dealing with an exchange, they can do everything through this portal."
"When it comes to auditing a subscribing customer, there are instances where exchanges can make errors. Nobody enjoys audits, but when they're wrong, that further damages that relationship," Hutton says.
"This approach makes the client burden less but also makes reporting more accurate. So, this is all about trying to make the relationship better between clients and exchanges."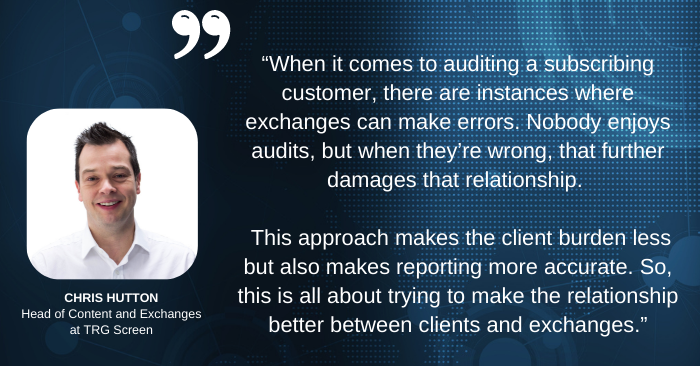 Learn more on how to improve your customers' user experience like Euronext 🏆
Get notified when we release a new blog article