Typical Reference Data Usage (Reporting) Challenges
Are you lacking total transparency and controls of reference data flowing into and within your organization?
Do you spend a lot of time compiling usage reports for audit requirements?
Are you able to confidently assess the different types of security identifiers used in your organization for licensing purposes (e.g. ISINs, SEDOLs etc.)?
Do you believe your firm's reference data usage is optimized & cost-effective?
How do you ensure that reference data usage is compliant to licensing agreements?

XMon is a software solution that provides Market Data and Data Operations teams with the functionality required to facilitate usage reporting, streamline compliance validation and ensure usage allocation in a fair and transparent way. Wonder how?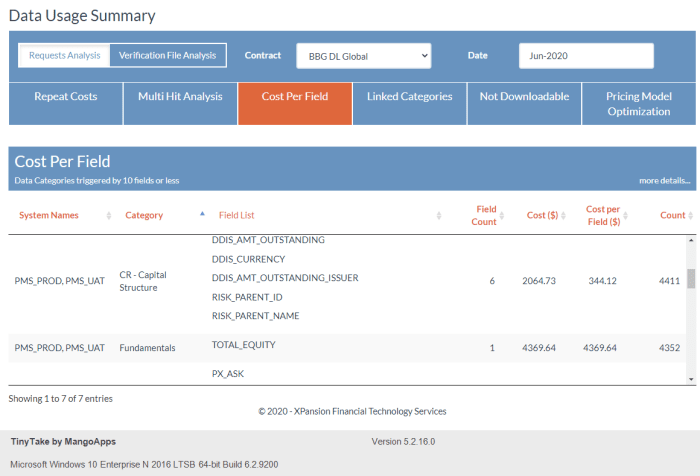 (Example screenshot: reference data usage summary - cost per field)
How XMon can help you to monitor, report & analyze reference data usage? (some examples)
Real-time tracking and monitoring
Track data coming into your organization from external vendors, and also track data flowing inside your firm, in real-time. All data flows are centralized and visible in the XMon dashboard – providing ultimate usage transparency.
Factual and timely usage reporting
Every single data request is visible in real-time in your request dashboard – including individual data categories, fields and security references.
Granular reference data access control
XMon allows reference data access to be permissioned, meaning only consumers with the right to access specific data will be allowed to do so – ensuring data usage agreements are met. XMon can also modify data requests to make sure they are compliant by removing non-compliant attributes before sending the request to the source.
Advanced Analytics
Build a usage report library through our advanced BI framework and schedule reports to be sent automatically. Reports will be populated and ready to go when needed. Provide senior management, CIOs and CDOs with the ability to view data flows in the organization and derive actionable insights.
XMon provides complete control over reference data usage
XMon is a SaaS delivery focusing on reference data usage management, business process monitoring and reference data connectivity. It empowers Market Data and Data Operations teams with the tools they require to manage reference data usage in an agile and cost-effective way.
With XMon as your reference data usage management software solution, you will achieve cost efficiencies, streamline data access and ensure usage compliance.
XMon in action - high-level product demo
Want to learn how XMon can add value to your business?