Vendor Contract Compliance: The Importance of Getting it Right 🤔

"There is a heavy price to pay for financial institutions that consume market data and other information sources but fail to comply with supplier contracts."
Gaining transparency into your actual usage 🔎
But often it can be difficult to comply or even know whether you're in compliance, and such a lack of control can lead to substantial penalties for improper data usage from information suppliers.
According to a A-Team Group survey of market data practitioners at Tier 1 and Tier 2 financial institutions, two-thirds of respondents said their firm lacks sufficient transparency into the actual usage of the information services they pay for (see graph, below).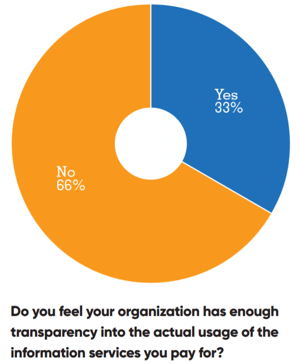 The difficulties in ensuring compliance with vendor policies can be due to the sheer volume of clauses across hundreds of suppliers, which can be challenging to stay on top of. But there is also a real lack of transparency into actual data usage across a firm. 🧐
Technology has enabled individuals to access and redistribute data with relatively few controls, leaving firms exposed to liabilities. And the ongoing march of regulations – such as the EU Benchmark Regulation and the research unbundling requirements of Markets in Financial Instruments Directive II (MiFID II) – shine a spotlight on data consumption and distribution.
But technology has also moved on and is now enabling us to put in place better controls and usage tracking so that financial institutions can grasp control of their data usage and limit their liability to vendor fines.
This article explains why being in compliance with vendor contracts is important, and examines the main challenges involved and possible approaches to overcoming them.
👇🏼
Scroll or use the menus below to navigate the article: