Both products offered vendor, subscription and inventory management software. INFOmatch became known as the flexible user-friendly option for simpler contractual relationships and FITS built a reputation as a data and reporting machine for larger, more complex environments.
Over the years, both products set new standards and pushed the boundaries to be the best in their class. They accumulated an impressive 80 developer years in functionality between them.
Fast forward to 2018 when the market dynamic shifted. TRG joined forces with Screen and became TRG Screen. With both spend management products under one roof, the company was well poised to dominate the market. The next logical step in this journey?
You've guessed it. Integration.
From domination to integration… and beyond
Our priority is to offer the best possible solution to meet our customers changing needs. But developing new features for two systems put a squeeze on our ability to keep up with our ambitions. By integrating these two industry-leading systems and focusing resources on a single solution, customers benefit from:
The most advanced subscription spend management platform in the world
Best-of-breed solution that combines the best of both worlds (FITS and INFOmatch)
Much more than the sum of its parts with major new capabilities
Accelerated development with new features released at a much faster pace
Enterprise subscription spend management that is easier than ever before
The new system is called Optimize Spend and is the first to be launched on the new Optimize platform. It is more intuitive with a modernized UI while being based on mature, stable and secure existing technology.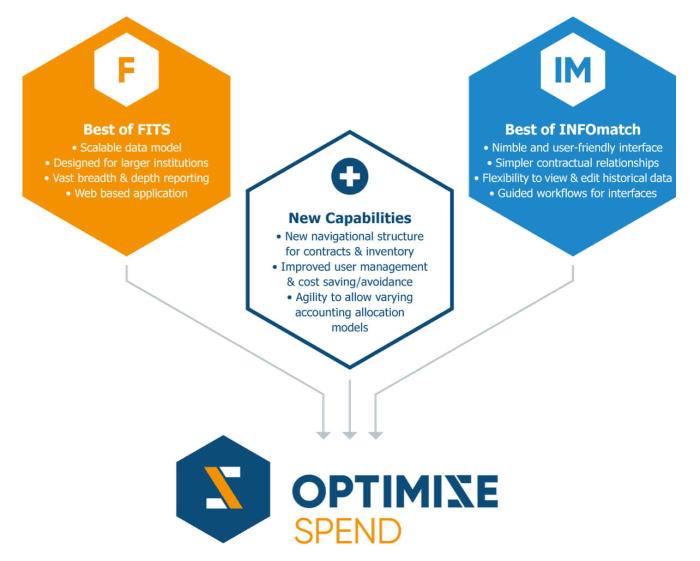 (Click image to enlarge)
Optimize Spend unlocks valuable insights, with personalized dashboards that bring your subscription spend to life with visual analytics, actionable insights and instant reporting.
Optimize Insights gives you an advanced understanding of your subscriptions so you can make smarter, insight driven decisions that will maximize the value of your subscriptions.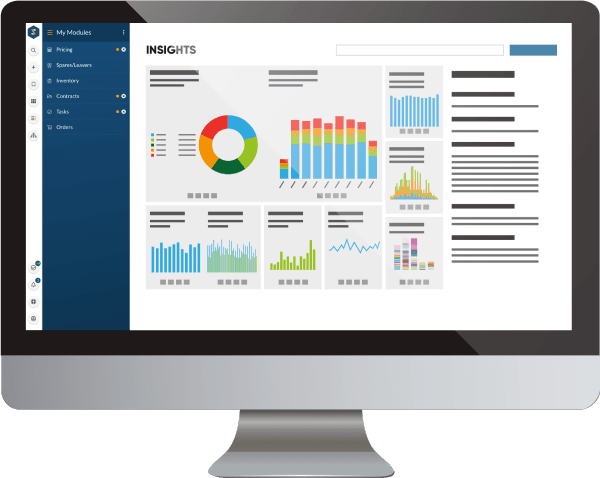 Why you need Optimize Spend
The volume, variety, format and sources of market data and other information services has exploded and evolved in recent years. (Have you already seen our latest Whitepaper: 'Record market data spend highlights need to track costs')
It can seem an impossible task to deliver the right combination of services to the business while reducing costs. Especially if you are lacking a single view of your entire subscription environment, and an easy way to generate reports.
Bringing all your enterprise subscriptions – including market data, legal research and other subscriptions – into a central platform makes it easier to manage and optimize subscription spend. It puts information on your vendors, contracts, products and services for every user in one place, giving you a single view of your entire inventory.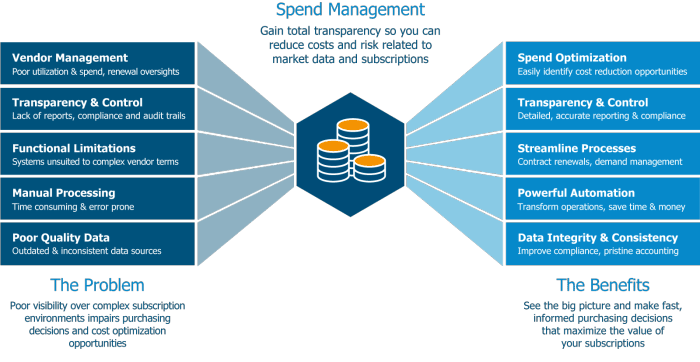 (Click image to enlarge)
Optimize Spend will completely change the way you think about your subscriptions spend and enforce cost awareness across the entire organization.
Management - Know your vendors, what they provide and how much it costs
Compliance - Comply with your contractual obligations, policies and dates
Cost Allocation - Assign costs to individuals at a granular level and track over time
Reporting & Analytics - Advanced automated reporting for business users, finance and vendors
Invoice Management - Predict, reconcile, allocate and process invoices with minimal effort
Budgeting - Easily generate detailed budgets and monitor progress
Cost Savings - Identify and remove redundant and duplicate services
Workflow Efficiencies - Automatically generate and assign team and individual tasks
Not only will you be able to answer questions that you could not before, but you can ask questions that you never thought of before.
A fresh new experience with features that pack a punch
Optimize Spend brings you greater automation to minimize manual input and maximize value-add. It also offers better connectivity and improved compliance management, with streamlined user experience to handle frequent use cases with minimum effort.
Automated
Rule-based straight-through-processing for invoices
Fully automated order and invoice approvals
Automatic reminder and task tracking for contract renewals
Minimize manual input and maximize time spent on adding value
Connected
Seamlessly connect internal systems through automated API links
Read and write data to/from Optimize Spend with web APIs
Connect third party robotics tools to automate based on your business workflows
Compliant
Track and disseminate contractual rights to the correct audience
Identify out of contract usage
Built-in exchange policy and price notifications
Powerful
Streamlined user experience handles frequent use cases with minimum effort
Intuitive design for ease of use coupled with unmatched feature set
Self-service portal with powerful functionality there when you need it
Robust, proven, cloud technology that is scalable for all sizes of organization
Welcome to the next generation of enterprise subscription spend management. Welcome to Optimize Spend. If you want to redefine how you manage your subscriptions contact us today.