Market data spend hits another record 💰 as complexity grows
👉 Market data spend in 2022 up 4.7 percent to record $37.3 billion
👉 Remains one of the biggest costs faced by financial institutions
👉 Keeping track has never been more important
👉 TRG Screen's 'game changing' insights, savings of 2-10+ percent

Spending on financial market data and news hit a new record in 2022, highlighting the value banks and other institution place on the these vital streams of information that drive their business.
"Market data remains one of the biggest costs faced by financial institutions ."
Global spend on financial market data rose by 4.7% on the previous year to $37.3 billion, with survey participants forecasting that it will exceed historical growth rates in 2023.
A respected annual report by Burton-Taylor International Consulting said spending has touched new highs every year for a decade. In 2022, the biggest share of spending was on real-time trading and data, although demand was also high for pricing, reference and portfolio management data.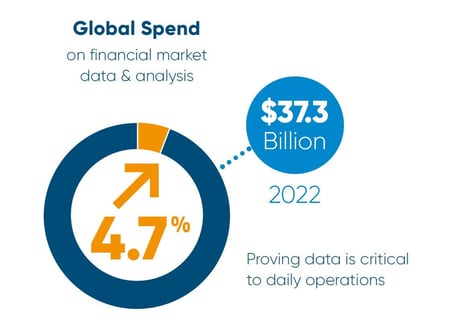 In a separate Burton-Taylor survey looking forward to 2023, respondents expected expenditure on market data would remain strong, with usage driven by greater acceptance of cloud technology and an increased ability to extract intelligence from data.

It will come as no surprise to firms who are already having to pay more for data, that fees have risen by 30-60% in the past two decades and, driven by rampant global inflation, by 5-10% this year alone. A contributing factor to the upward trend in spend.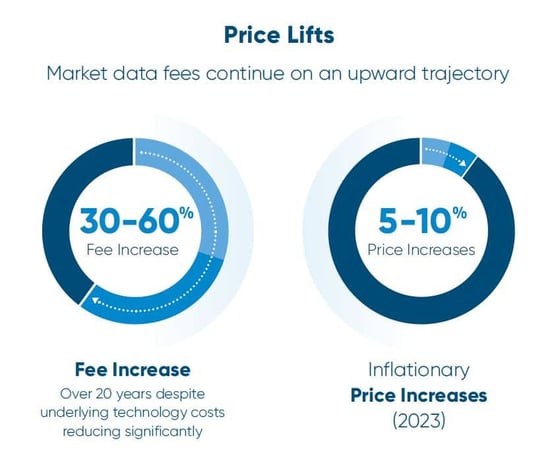 Other growth factors
Like many other industries, market data consumers are arguably still dealing with the consequences of the pandemic. Market volatility during Covid and the economic upheaval that followed, fueled increased data demand. At the same time, what looks like a permanent shift to hybrid working meant firms needed more licenses, raising costs and potentially making it harder to track compliance with vendor contracts.
The increased demand for data triggered strong growth in alternative data, and it continues to expand. A report by San Francisco-based Grand View Research valued the global alternative data market at nearly $4.5 billion in 2022.
Analysts expect "alt-data" to undergo a compound annual growth rate of up to 55% between 2022 and 2030. This means more data sources need to be acquired and managed and typifies the relentless growth in complexity of market data.