This article introduces our recent infographic: "Unlock the untapped value from your market data subscriptions"
Firms spent $37.3 billion in 2022, up 4.75% on the previous year, and now many are asking urgent questions: Can I do more to optimize my market data costs and consumption? Are there opportunities for cost reduction and cost optimization? And can we squeeze more value from our market data subscriptions?
In our experience, the simple answer to all these questions is yes!
However, the choice of technology partner is crucial. A report from the A-Team Group on market data monitoring found that while 79% of firms were tracking their data usage in some way, their current methods were not working well enough. Two-thirds of firms felt they had insufficient transparency over how their market data was being used across the organization.

With an uncertain grasp of this important metric, 85% of firms found it difficult to manage or reduce spend effectively, and 80% said they struggled to comply with vendor contracts or prepare for audits. More than 60% lacked confidence when cutting services and a similar number faced problems collating usage data, the report revealed.


It is clear that a vital step towards realizing untapped value is to have transparency around market data spend and usage in a single system. Combining these factors brings insights that allow users to proactively reduce spend, increase utilization and manage compliance, not to mention automate the entire subscription workflow.

Among the immediate gains, firms will have an advanced understanding of commitments related to data subscriptions, allowing them to make data-driven decisions affecting spend. They will know whether they are wasting money on under-used or unwanted subscriptions and be able to cancel them with confidence.

Meanwhile, any concerns over tracking, monitoring and demonstrating compliance against a backdrop of ever-changing policies disappear.

Having a unified system opens up previously inaccessible insights that make the twin goals of cost optimization and value maximization a reality. Not only will the firm save time, money and resources, it will have the key to release maximum value.
Five steps to optimize market data cost management
Whether a firm relies on spreadsheets or already uses purpose-built technology, there are huge opportunities to free up value. Wherever your firm is on that journey, there are steps to be taken to optimize your market data cost management.

For any firm managing market data, adopting a proven out-of-the-box software solution gives transparency and control over the inventory. Centralizing it into a single system provides significant opportunities for cost optimization and cost reduction, leading to savings of between 2 and 10% by cutting redundant and duplicate services and subscriptions. (Calculate your potential savings and ROI)

For firms using a generic inventory management system, a smart move would be to shift to a specialized market data management system with inbuilt best practice which automates and streamlines all of the tasks and workflows associated with market data management – something that you wouldn't get with a generic vendor management system. Removing time-consuming workarounds and error-prone manual processes can lead to time savings of up to 90%.

For users of proprietary market data management systems, who find their in-house software is struggling to keep up with the pace of change in the market, they should turn to a best-in-class market data management system from TRG Screen. It has decades of operational best practice built in and ongoing investment, and has been proven to deliver savings of up to 60% over five years, compared with the cost of keeping proprietary systems relevant.
Contract Management Innovative firms turn to specialists for technology and expertise
"While managing subscriptions is vitally important, there is no competitive advantage to be gained from devoting significant internal resources to it," said TRG Screen President Leigh Walters. "This explains why more innovative firms are turning to specialists for technology and expertise."

Even if a firm has a specialized third-party market data management system they still might only be able to access a limited amount of consumption data and it may not be held in one place.

Only when a firm has a complete view of its market data commitments and understands how services are being accessed and used across the businesses and at what cost – and all within a single system – can it right-size its subscriptions and confidently demonstrate vendor compliance.

The single system with these capabilities is TRG Screen's Optimize Insights. It delivers tailored insights and powerful calls for action to help truly optimize market data subscriptions.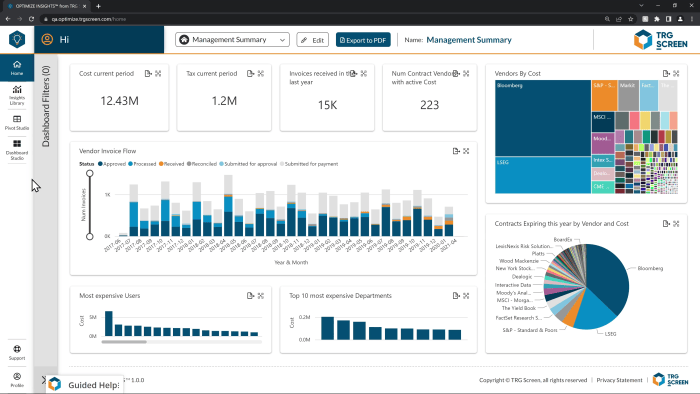 Among other benefits, users report productivity gains from wider utilization of underused systems, stronger positions in negotiations with vendors, savings through more accurate tracking of movers and leavers.

There is greater cost awareness. Reports are drawn up more quickly now that management information is served up in visual analytic dashboards. Vendor declarations are also easier to produce and invoice processing is streamlined. It doesn't stop at the software. There is another opportunity to enhance value further.

Many market data teams say they spend too much time on the administration of market data subscriptions and not enough on driving value. The business wants to deploy its market data experts in the constant search for a competitive edge.

This might involve focusing on vendor and stakeholder relationships, increasing understanding of the vendor product pipeline, consulting with the business on new data requirements. The data team become trusted advisers to business partners.

Call it the value beyond value. And it is all possible through outsourcing the admin to a managed service provider, such as TRG Screen.
The key is insight
However a firm manages its market data subscriptions, there are steps it can take to extract more value from them.

But only through insight that marries spend and usage data will they truly be optimized.
Want to learn more on how to optimize your market data cost management?
Get notified when we release a new blog article