Never lose a research request again!
Dealing with multiple and ongoing requests of varying urgency across multiple teams - who are sometimes dispersed worldwide - can mean losing track of what requests have come in. Not only is this detrimental to current handling of queries, but in the long term, if these enquiries aren't filed correctly they may be lost, and there is a risk of the same team redoing them at a future date.
What if while you were working through requests you were also building a fully searchable knowledge base to reference and leverage for later requests? Furthermore, based on your team's self made knowledge base, you could also build a valuable set of FAQs to have on hand for repeated queries. No more duplicate work, and no more repeatedly answering the same queries time and again. Furthermore, with detailed information on every request at your team's fingertips it is possible to build on previous work, making your team's responses more valuable and readily available over time.
A fully searchable knowledge base at your disposal
TRG Screen's request management system Quest tracks and sorts incoming requests so that even a team working remotely or with changing team members has a single database of enquiries to draw from. These requests are fully searchable, filterable and accessible to team members who are given access.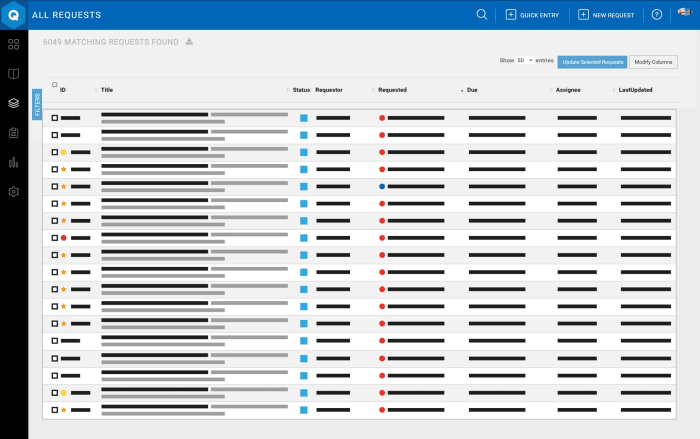 Management metrics that work for you!
Having these metrics on hand also means that when it comes to analysing value, all the necessary data is available to make validated decisions on which elements of your service request management are used most; if team members are over, under or at capacity; and how the service supports key customer groups. You will be able to evaluate performance and plan for future budgeting with real data, as well as further streamline your workflows.
Want to learn more about how to enhance your future management requests while you work?