Good news. TRG Screen, a market leader in managing high-value enterprise subscriptions, is launching Optimize Insights, which unlocks data-driven intelligence and actionable insights.
These are delivered via BI-powered dashboards that give data teams the transparency they need on spending and usage. Put simply, not only will Optimize Insights answer managers' burning questions, it will answer questions managers may not even have thought of.
There's a lot at stake here: spending on financial market data and news hit a record $35.6 billion last year, up 7.4 percent on 2022, according to an annual survey by Burton-Taylor International Consulting.
Optimize Insights is the latest phase in TRG Screen's multi-million-dollar investment in its Optimize platform, following the launch of Optimize Spend a year ago. TRG Screen has long insisted that data teams need the full story of their data subscription landscape. However, the new release represents a paradigm shift in market data management and reporting.
Here are some key features of the brand new Optimize Insights and how they will make getting the most of market data subscriptions easier for users, large and small.
Calls to action
The Optimize Insights launch is a response to user demand and coincides with a recent WatersTechnology survey revealing the struggle that financial firms face in tracking and optimizing market data spend.
Anecdotal evidence indicates that firms of all sizes suffer from 'invisible' overspend – unused or underutilized services, 'dormant' contracts that automatically renew, and overlooked billing errors, for example – and compliance breaches by way of internal redistribution of data and feeds. Often, firms may be unaware of these issues, believing they have a good handle on their market data subscriptions, but as the old adage goes "you don't know what you don't know".
The need to know more
TRG Screen also says that as reporting requirements have become more complex, firms want more sophisticated, granular and flexible reporting, with the results viewable on self-service, customizable dashboards. Optimize Insights offers users a high-level picture of their data landscape and the ability to drill down into the detail that data teams increasingly demand.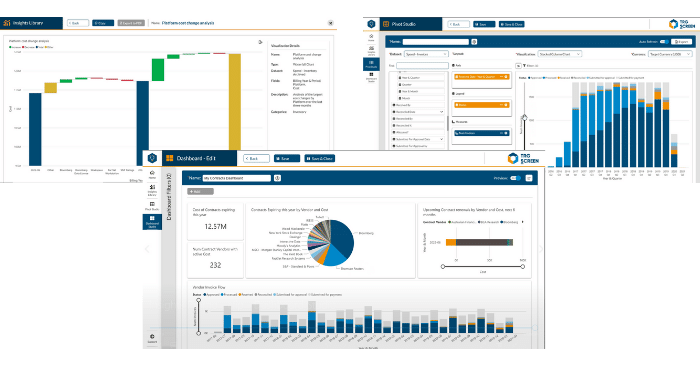 Seeking cost savings and efficiencies used to mean sifting through masses of management data, while monitoring compliance was laborious and potentially error-prone. Optimize Insights has the data team's back with automatic trend analysis that will explain why costs are changing.

But it goes further, combining underlying spend and usage data to provide actionable, "do-this-now" insights – calls to action – to maximize results.
Seeing is believing
All this is delivered to the user via customizable dashboards and visualizations. Seeing is believing, so please watch the TRG Screen video accompanying the Optimize Insights launch for a detailed look at these transformational advances.

The foundation of Optimize Insights is Pivot Studio – a brand new pivot table built with PowerBI technology that allows users to pull together raw data from multiple sources and manipulate it into customized analytics.
Unlimited
And the insights need not be limited to market data management; Optimize Insights also supports analysis of other complex enterprise subscriptions, including research, telecoms, IT and software.

The first release comes with Insights Library, a suite of visualizations and dashboards that tell a particular story or show key performance statistics. New ones will be added based on customer demand.

Dashboard Studio is a drag-and-drop dashboard designer that allows users to easily create their own and interrogate the data in a manner of their choosing.

Optimize Insights is available to Optimize Spend customers. More good news – no new licenses are required. It is a Software as a Service application hosted in the cloud and will be continually enhanced with further datasets and new insights.
As more applications are migrated to the Optimize platform, ResearchMonitor and Quest customers will also be able to access it so be on the lookout for more details.