This article introduces our recent case study of how Jackson Lewis automated their docket retrieval through Quest.
In the first collaboration of its kind, TRG Screen, Jackson Lewis and legal solutions company LexisNexis each worked on innovations to create an automated retrieval system that ensured dockets of legal information reached the appropriate Jackson Lewis attorneys in its offices across the country.
"Both LexisNexis and TRG Screen demonstrated a high degree of flexibility and willingness to collaborate with us to achieve our shared goals," said Jackson Lewis Knowledge Manager Alirio Gomez.
The implementation of the system is seen as showing how technology can enhance the efficiency and effectiveness of legal research and setting the stage for further innovation in the field.
Streamlined process enhances ROI
Jackson Lewis wanted to cut the cost of delivering the service and optimizing use of resources.

"Working closely with LexisNexis and TRG Screen, we were able to achieve this objective through a streamlined process that ultimately enhanced our ROI," Gomez said.

Jackson Lewis, with more than 950 attorneys, has specialized in labor and employment law since 1958. It partners with clients to minimize workplace-related disputes by educating employers on legal trends, judicial developments and regulatory compliance. It also provides value-added services, including newsletters and legal alerts.

The firm's national practice groups ensure all its attorneys have easy access to the latest resources in each practice area.
Prior to the automation project, Jackson Lewis' reference desk was fielding numerous requests for docket and complaint retrieval each day in an intensive and time-consuming process. When a request arrived, the desk would undertake research using LexisNexis CourtLink's collection of dockets and documents.
The desk relied on TRG Screen's Quest inquiry and request management system that caters specifically to the needs of law firms.
Jackson Lewis' Gomez, who focuses on processes that streamline delivery of services to its lawyers, wanted to bring a similar level of efficiency to the delivery of dockets and complaints.
More time for high-priority tasks
Along with optimizing retrieval of dockets and complaints, the firm had a target of providing precise information on the requested documents and to carve out more time for reference librarians to focus on high-priority tasks.
Quest allows firms to track, prioritize, allocate and resolve requests, which are promptly routed to the most suitable team or individual. It takes over the management of inquiry workflow, allowing reference desks to focus on the four stages that constitute "value add" for a request management system – "Request, Resolve, Report, Reuse".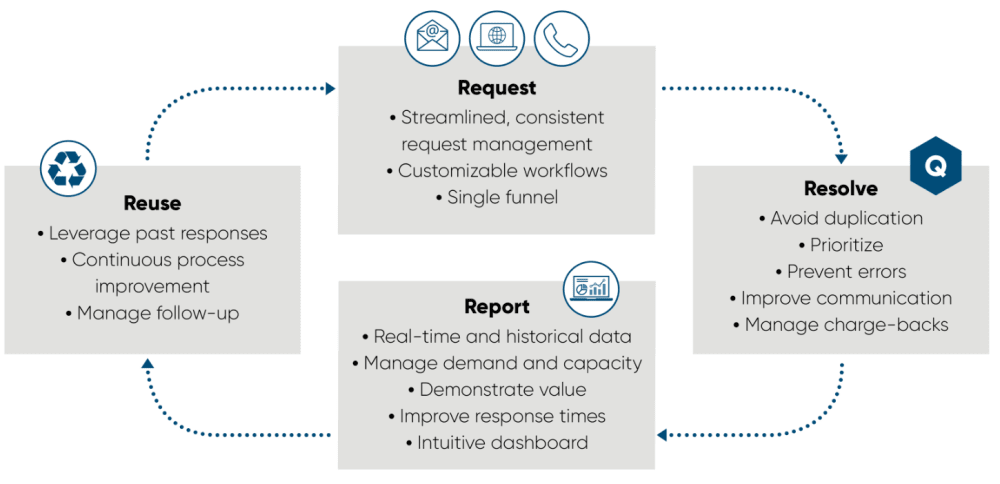 The unique collaboration involved three critical initiatives – integrating Quest with the LexisNexis CourtLink to allow seamless functionality across the platforms, connecting these systems to Jackson Lewis' internal network and, finally, ensuring accurate documents were delivered to the person who requested them.
Put simply, Gomez developed a prototype, TRG Screen created a Quest bot and LexisNexis worked on an API to allow the platforms to communicate.

"Working together, LexisNexis and TRG Screen have provided an innovative solution for our mutual customers," said Jeff Pfeifer, Chief Product Officer, LexisNexis North America, UK and Ireland.
Extraordinary outcome
"If the collaboration was extraordinary, so was the outcome"
The system has been gradually refined. At first, reference librarians were responsible for verifying the retrieved documents but, after checks, attorneys are able to send requests straight to the system.
Jackson Lewis continues to work with TRG Screen and LexisNexis to provide attorneys with reliable and accurate information quickly.
Richard Mundell, Chief Product Officer at TRG Screen, said harnessing content via API is a huge topic for legal librarians but they often don't have access to software developers to build the necessary integration.
"Interfacing to CourtLink is an excellent opportunity to provide the automation to TRG Screen's and Lexis's mutual customers so they get all of the benefits without any of the overhead of having to build it themselves," he said.
Ready to learn how Jackson Lewis automated their docket retrieval through Quest?

We think you are! 👇
Get notified when we release a new blog article